Are you still facing the situations when you device's battery dies at the moments when you need it the most? Now you can forget about such situation.
The number of electronic devices that people use in their daily life is continuously growing. However, it becomes increasingly difficult for people to monitor and timely recharge all the batteries. Even cable, power bank, Qi or inductive charges do not allow us to use our devices effectively during a day.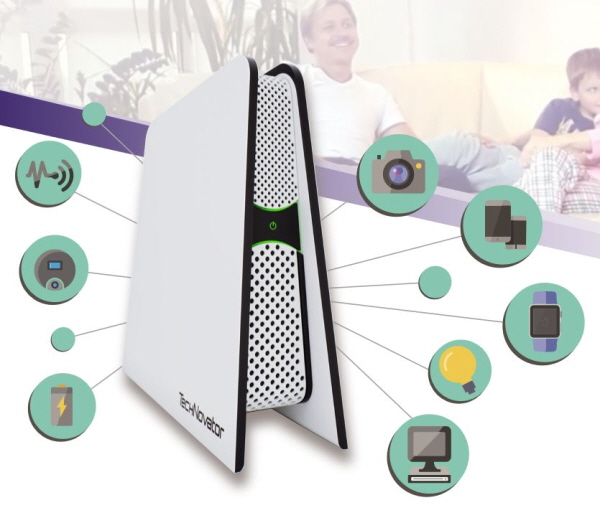 TechNovator XE , developed by TechNovator Korea, creates a unique remote wireless charging solution that effectively charges multiple devices simultaneously at a long distance within range of the transmitter (5 meters radius), and is completely safe for people and the environment. The system also has a unique feature "battery charging level control" that is achieved through constant battery level monitoring and autonomous charge if it is below the certain level that the user can set up in the application.
Imagine you are entering your home, office and your device start charging automatically without any cable or special platform connection.
At this moment, Technovator is taking part in the K-Startup Grand Challenge program, which is supported by the government organization Nipa and participates in the acceleration project. TechNovator http://technovator.co/ is really interested in development in South Korean market. South Korea is one of key markets for TechNovator, where Technovator team would like to open R&D center and organize partnership with Universities and global companies.
The technology can be integrated into various portable electronic devices, such as: phones, tablets, cameras, fitness bands, headphone, wireless trigger, headsets, wireless keyboards, remote controls and toys, sensors, etc. You will be able control the speed of the charging process and set the priority, which of the devices you want to be charged first.
The technology can also be used in the restaurants, hotels, airports, railway stations, subway station, conferences, exhibitions, the places where a large number of people gathered with various devices that require charging.
Why TechNovator is better? TechNovator uses safe innovative technology able to charge different devices at once for a long distance, no such technology on the market yet.
So, how TechNovator XE works?
Very easy! Everything what you need is to connect the base to a socket, slide your smartphone into the case XE, install the XE app and now you can charge your device on a distance up to 17ft and still use your device without any inconveniences.
Kim Sua edt@koreapost.com
<저작권자 © 코리아포스트, 무단 전재 및 재배포 금지>